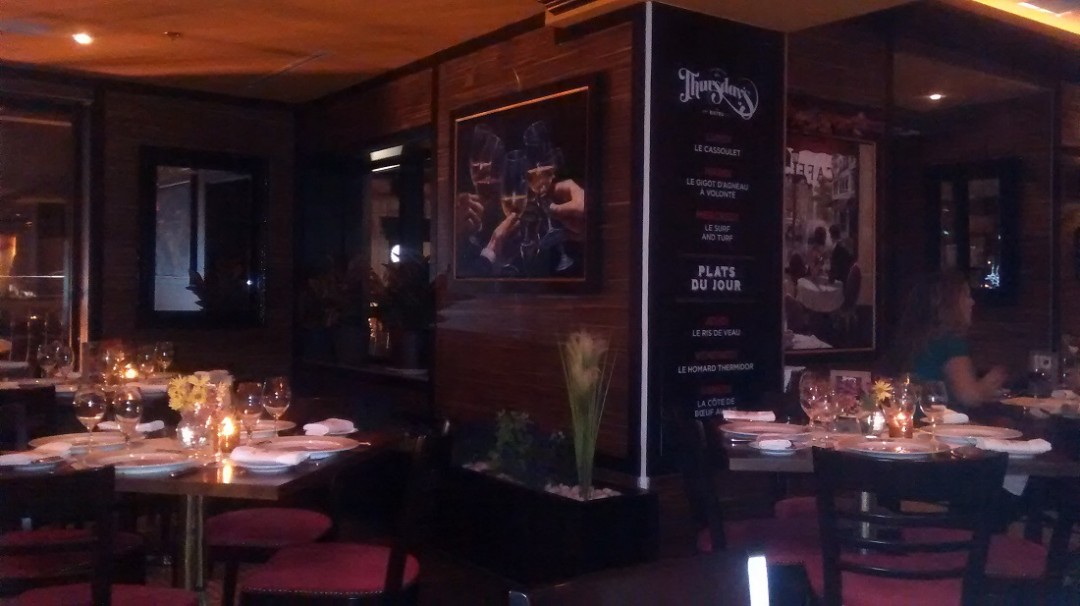 As our regular readers know we are always on the lookout for the next dining hot spot to highlight on our blog. Our team is hard at work developing luxury foodie tours that we hope to launch in the spring of 2016. Right now we are coordinating the launch of this tour program in Montreal (Canada) so we are visiting restaurants in Canada's most beautiful city. This past week we visited Thursday's Bistro which is within walking distant of most major hotels in the core. Our evening was organized by Florence Tsang and we would like to thank her for the hospitality before we go any further.
Thursday's is a Montreal institution. Founded by Bernard Raguereau – Thursday's Bistro underwent a massive renovation in 2013 and the results have been spectacular. Located at 1449 Rue Crescent in the heart of Montreal; Thursday's space is warm and inviting and is highlighted by a patio with a wonderful view for people watching. This patio is a magnet for sun lovers in the summer and something to look forward to for the rest of the year. If you do get a chance to visit Thursday's Bistro make sure to reserve well in advance because this well-known resto is a favorite for local business and entertainment people. Thursday's used to be directly linked to the old Hotel de La Montagne and the "shazam" factor still attracts a crowd on most nights.
During our visit; the bistro was quite busy but the service was impeccable with the waiter and Maitre D making sure that all our needs were met. The bread on the table was fresh and plentiful with refills coming whenever we came close to empty. We were offered some very pleasant house reds and whites to try and we think even the most ardent wine lover will find the choices to be well above par.
The appetizers were tasty and flavorful. I had the opportunity to try the lobster chowder and my wife sampled the escargots. The entrees were stunning. They were well presented and the seasoning on both meals was spot on. I enjoyed the liver and my better half had the sturgeon. The meal was topped off with delicious desserts for both of us. Chocolate cake for myself and a chocolate eclair for her. Our compliments to the Chefs for a job well done – we just wish we could have sampled more from the extensive menu. There is always next time. We plan to visit again – very soon.
We can heartily recommend Thursday's Bistro to everyone looking to dine in an iconic restaurant that should be pleasing diners for years to come. The restaurant has been in business for 40 plus years and we wish them well for at least another 40 years. Longevity in the restaurant business is not easy but after our dining experience at Thursday's we know why they earned their dazzling reputation and the loyalty of their customer base.