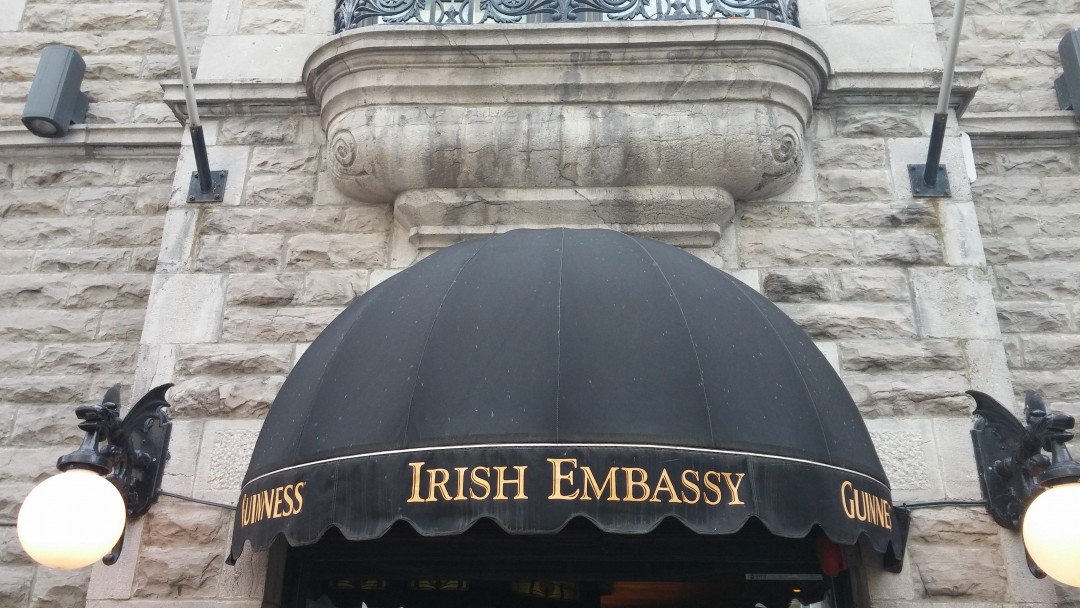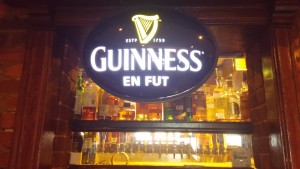 On our many travels we have enjoyed many experiences and exotic foods. But when we need a taste of home we always look foe the local pub. If it is an Irish pub all the better. From the Caribbean to Turkey we have an inbuilt radar and find pubs wherever we go.
When in Montreal, there is no Irish pub like the Irish Embassy. Located on Bishop Street in the downtown core, the Embassy is easily spotted by the large display of Irish flags and spacious street side patio.
Although the weather is starting to change the front patio is still available for brave souls who do not want to give up on the last memories of summer or grab a quick smoke. The location also sports a rear patio, a little more secluded but alas now closed for the season.
Hosted by our good friend Paul Quinn, we were treated to an amazing afternoon of traditional pub fare, beer and of course music.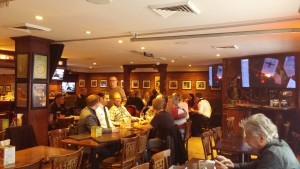 The Embassy is a great place to celebrate with friends and family, it supports large rooms and a welcoming atmosphere. The evening party environment brings everyone together to celebrate everything Irish. You may arrive with two friends but you will leave with twenty.
However if you are looking for a little more privacy there are a few snugs around the pub waiting for a nice quiet tete-a-tete.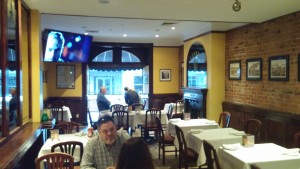 If you are looking for more of a dinning experience and not just a pub, the Irish Embassy offers that also. With a seperate area set aside just for dinning.
As we were early in the day, the music was nice and of course Irish. It was a perfect complement to out visit. Evening music on the other hand fills the pub with joyous singing and dancing, turning even the quietest night into a celebration. On Game nights the music waits until after the game. What better way to celebrate a Habs win but with a couple of pints and your new friends.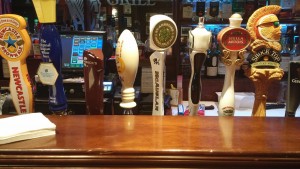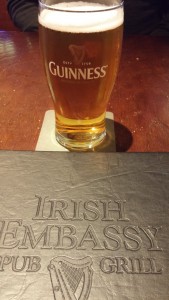 We started off our visit with what else but beer. The house ale was our choice of drink, but you are welcome to try one of the many brands offered.
When it came time to eat we went for traditional Irish food, enjoying the amazing comfort foods of Sheperds Pie and Irish Stew. The food is served fast, hot and delicious. Cooked to perfection, we were quickly full.
The Irish Embassy also offers a full menu of pub favorites from wings to burgers to salads it has it something for all appetites.
For dessert we decided to forgo the usual rich delicacies we usually have and enjoyed another pint of  beer. Being traditionalists we stuck with the house ale, a nice refreshing blonde beer.
We love the Irish Embassy and thank Paul Quinn for hosting us. Keep your eye out for Paul as the Grand Marshall of the next St-Patrick's Day parade on March 20th. But you do not need to wait for the parade to enjoy the Irish Embassy, you should try it tonight.
Related articles