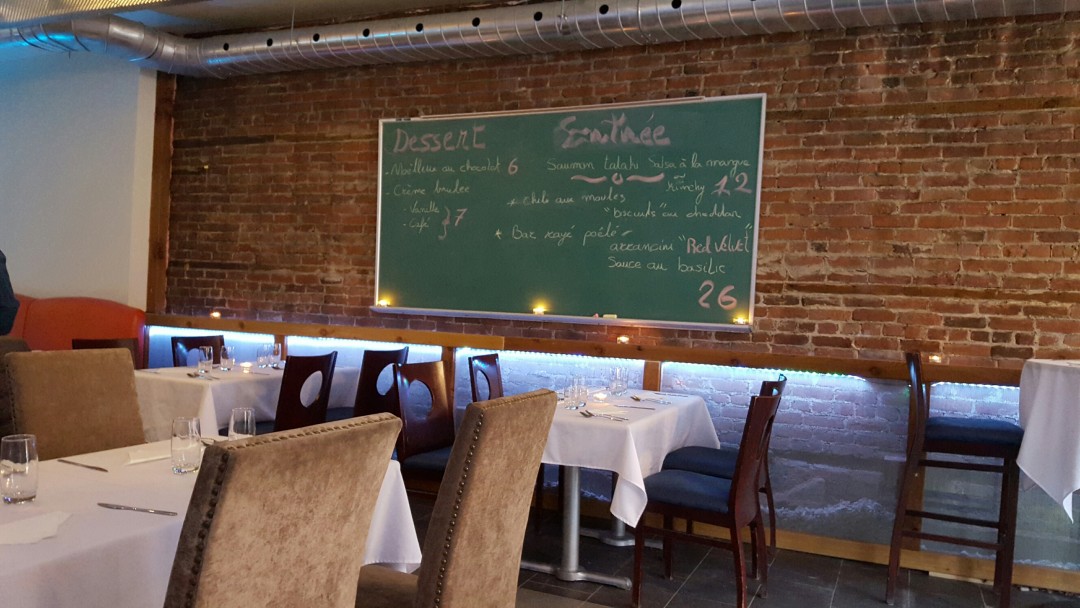 If you like seafood, La Vague is the place for you. Situated on Notre Dame Street West, this bistro offers a delightful menu featuring a fusion of Asian and French cuisines. The establishment sports a slick modern decor with black tiled floors and brick walls. Although the location is small in size, the tables are situated far enough apart diners have the space to relax and enjoy this great dining experience. Large groups are always welcome and patrons are encouraged to bring their own wine or beer.
The staff is so attentive, ready and waiting to answer a question or offer a suggestion. Diners truly fell spoiled by all of the attention. Although La Vague has only been open for a short few months, the staff has the place running like a well oiled machine. They offer the perfect combination of service and cuisine.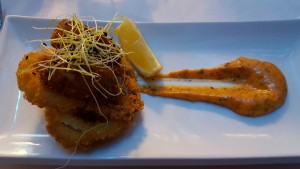 We started our meal with a delightful pot of green tea. Unfortunately as we were just getting over a cold, we chose not to indulge in any wine or beer. The tea however was hot and tasty and turned out to be the perfect start to our Asian French adventure.
Appetizers soon appeared at our table and we were immediately struck by the enticing smells that were placed before us, crab cakes and fish tacos were the dishes of the night. The mahi mahi tataki tacos were served with mango salsa and just the right amount of guacamole. The Crab cakes were accompanied be a sublime cajun/Korean inspired sauce. With the first bite we knew we were in for an amazing dining experience. More tea offered us time to relax and soak in the atmosphere of the restaurant.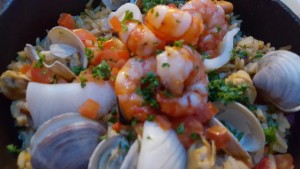 Before we knew it, the main courses arrived. We were very excited to sample the fish and chips and the jambalaya. The fish and chips a la Kiev featured a battered ray with sides of salad and homemade fries. The Ray offered a unique taste to this traditional dish. The rice in the jambalaya was flavorful and the added seafood was fresh and delicious. With mounds of shrimp, mussels, clams , squid, scallops and a lovely chorizo.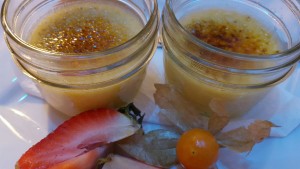 How could we possibly top this abundance of seafood, no dessert could do this meal justice until we tasted the coffee and vanilla flavors of the double serving of creme brulee. How could you go wrong with not one but two delicious servings of this traditional French dessert. Just to be sure all desserts were to our liking we had to also try the chocolate molten cake. Rich and oh so decadent it was the only way La Vague could top such an amazing meal.
If you love seafood as much as we do you must check out La Vague. It will surly become a favorite of tourists and Montrealers alike. But don't forget to bring along the wine and maybe we will see you there soon.
Related articles