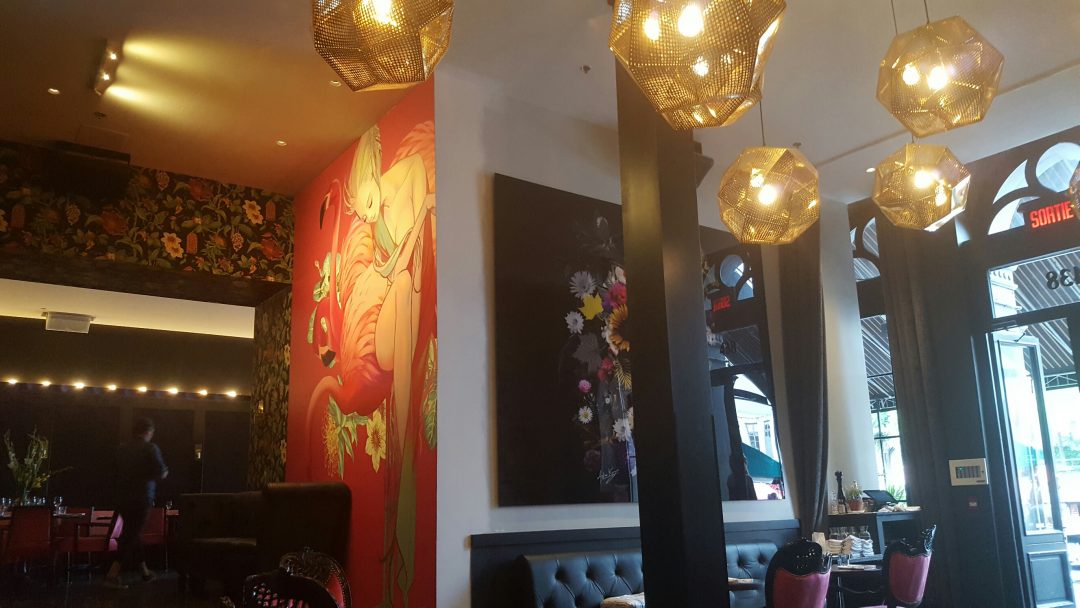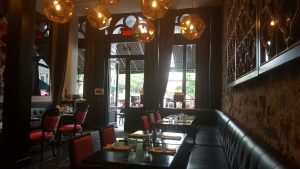 Deep in the heart of the Old Port of Montreal, situated at 438 place Jacques-Cartier, Montrealers can now find an exquisite new must try establishment. From the minds of the gang who was behind the successful Time Supper Club comes a splash of pink among the traditional tourist fare and souvenir shops.
Le Pink Flamingo opened only a few short weeks ago, just in time for the Montreal Patio season, and the place is bringing a new vibe to the city. With it's stunn9ing decor, featuring a mural of what else but a giant pink flamingo, to the menu inspired by the Kerry Simon Hospitality group. This new restaurant is what the city has been craving.
As we were feeling the summer vibe we opted to start our meal with our favorite summer classic drink of vodka and pineapple juice. However a full menu of cocktails, wine and beer are available, and if you cannot decide, the attentive staff is there with a quick and refreshing suggestion.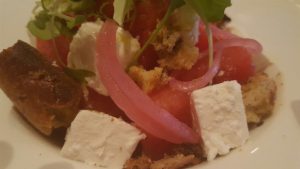 Now that we were relaxed and enjoying the ambiance of Le Pink Flamingo it was time to get to the main reason we were there. So yes it was time to eat. We decided on several dishes to share so we could sample them all. The first three plates to arrive were the rainbow cauliflower, the watermelon and feta salad and the crab cake.
The first thing to strike us was the mouth watering smell of the rainbow cauliflower, and yes it tasted as good as it smelled. The watermelon and feta salad was a perfect combination of sweet and salty and a divine summer dish. As for the crab cake, as crab cakes go it was right on point.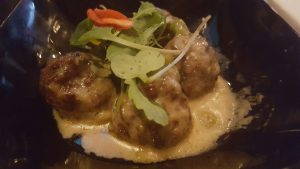 We were very intrigued by the menu selection and were looking forward to the next courses. The oxtail risotto and a plate of meatballs soon arrived. The meatballs were fresh and flavorful. But the oxtail risotto was by far our favorite dish of the night. Perfectly prepared risotto with plenty of meat to complement it. We could eat this dish everyday.
Finally it was time for dessert and we had a special request. The menu features a sampling dessert platter created by the Kerry Simon Hospitality group. Unfortunately we were quite full and not able to taste the full platter, so we kindly requested a small taste. Before us was placed a plale of fruit, ice cream, cake and sauces to try. It was so good we cannot wait to go back and order the full dessert.
If you are looking for something out of the ordinary, you must try Le Pink Flamingo and take a walk on the wild side.
Related articles