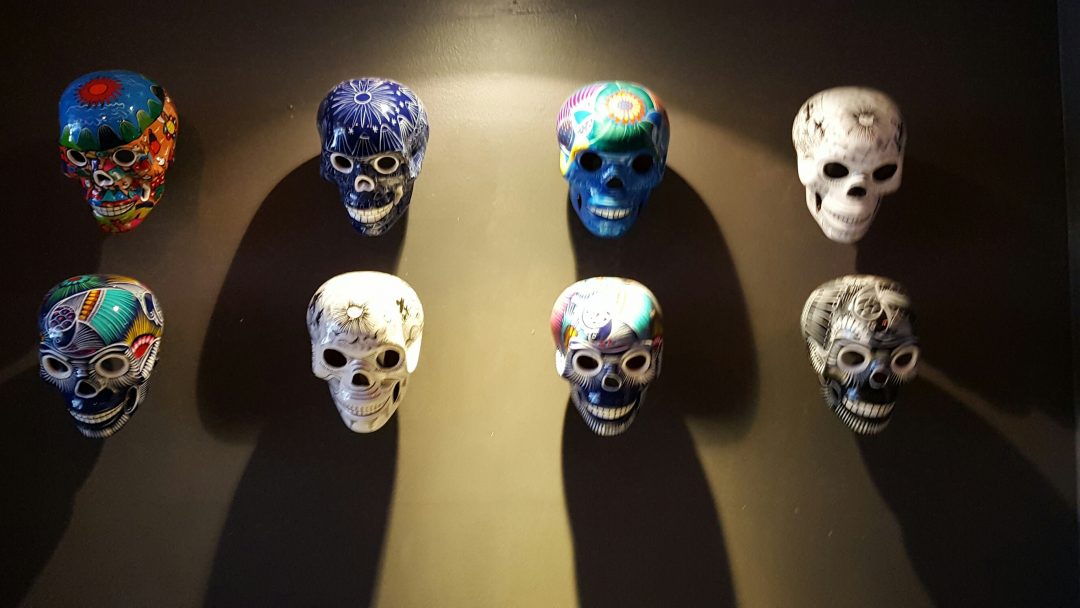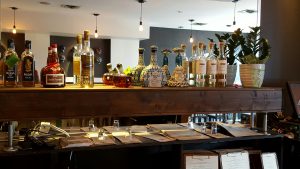 Deep in the heart of the Little Italy neighbourhood of Montreal, foodies can now taste the offerings of the most  recent addition to the area a delightful Mexican restaurant named Mercado. Located at 6961 Boul. St-Laurent, Restaurant Mercado offers patrons a menu of upscale Mexican dishes. The restaurant is the inspiration of Chef Fabian Enriquez, who brings not only his Mexican heritage but many years of experience in the Montreal food industry to his dishes.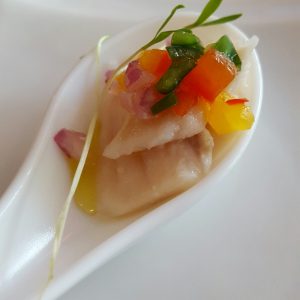 To wet your whistle Restaurant Mercado offers a selection of wine, beer and of course cocktails all created with tequila. We opted for the margarita. Strong and flavorful, it was the perfect start to our Mexican dining adventure. Our first taste was an amuse-bouche of ceviche and with that one taste we knew we were going to eating a great meal.
Before our appetizers arrived we took the time to check out the amazing artwork around the establishment. From the bathrooms to the giant mural each section was a unique work of art. Along the back wall above the banquette is a display of the most beautiful painted skulls from Mexico, a must see for any art lover.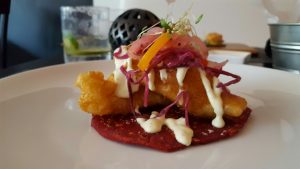 Soon it was time to eat. We started with the Taco De Bacalao and the Cappuccino y Tostada De Camaron al Tequila. The Taco De Bacalao was a homemade beet tortilla taco filled with beer batter deep fried cod. It tasted as good as it looked. Not to be left behind was the superb Cappuccino y Tostada De Camaron al Tequila. Tequila flambéed tiger shrimp served with a shrimp and tequila bisque.
Next came the main courses and at the recommendation of the staff we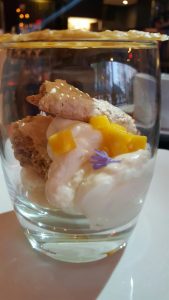 tried the Birria and Bacalao Negro a la Poblanairria. The Birria was a delicious serving of beef short rib braised in chilli and Mexican chocolate presented with a side of vegetables. Bacalao Negro a la Poblanairria was a perfectly prepared Black cod served on top of zucchini and corn cream sauce. The dishes were flavorful and brought back memories of dining in Mexico.
Finally it was time for something sweet. Eton Mess a la Mexicana, seemed to be the way to go. A cup of Meringue cookies, lime cream, mango cubes and almond orange brittle made an exquisite dessert. But there was one more thing we had to try a dish called Pastel de Elote. A Mexican corn cake served with popcorn ice cream. And yes it tastes just like pop corn.
We would like to thank the amazing staff at Restaurant Mercado for the great service and thank Chef Fabian Enriquez for the divine meal. If you a looking for something different in a sea of Italian food, head over to Restaurant Mercado for a taste of Mexico.
Related articles