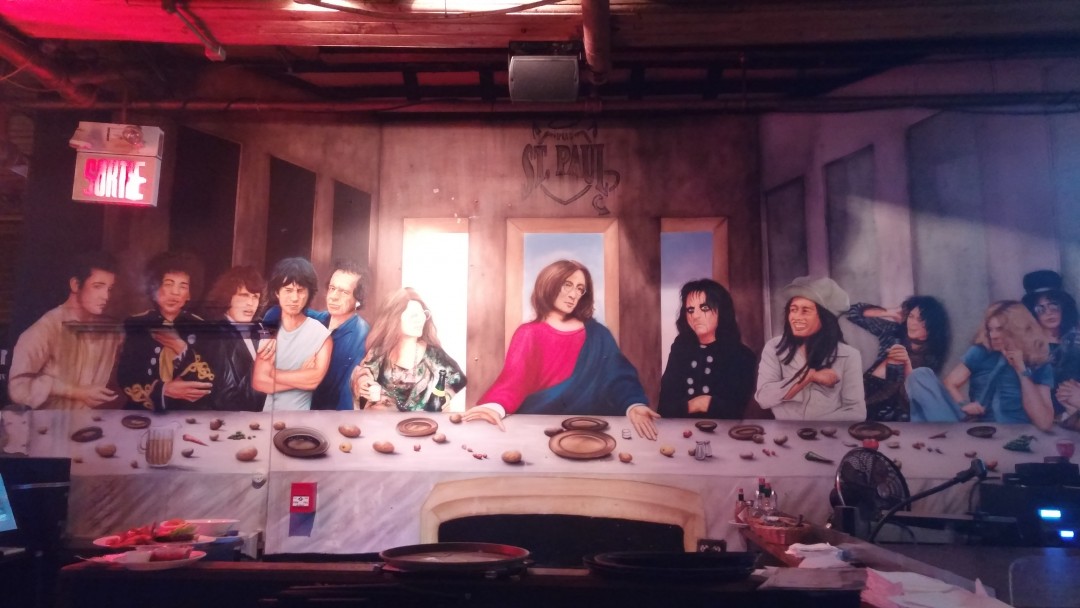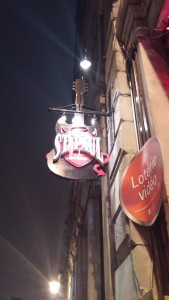 This past Saturday we were invited to Pub St. Paul in Old Montreal to do two things Montrealers love to do, watch the Habs and listen to live music. Located on the second floor on St Paul street, Pub St Paul offers some great ambiance if you are looking for a place to hang and have some fun.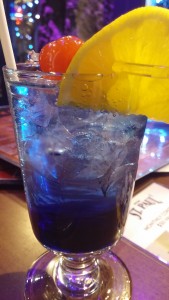 The pub is an open concept with the bar situated in the middle. TVs are stationed all through the location so fans can watch the game from any seat. The back wall supports a giant mural featuring some of the greatest musicians of all time. See if you can name them all? Tables are set up for groups of any size and are waiting for your party to arrive.
We began out visit with some drinks. We opted for our usual choice first, beer of course. Next we went for something from the cocktail menu, a Porn Star. A sweet concoction made with blue curacao, it was a fun way to start our night.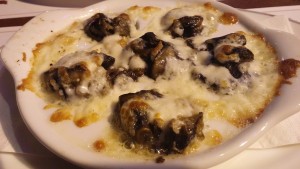 After a few drinks it was time to eat. As we are in Montreal we had to sample at least one French dish, and chose the escargot in garlic butter and cheese and to complement it went for the bruschetta. The escargot were tender and delicious, and the bruschetta was served on a warm toasted baguette. Next we were served a piping hot bowl of vegetable soup. The soup was hot and spicy and was perfect for any cold winter Montreal evening.
On to the main course, the choices were easy, the chicken kabab with salad, rice and fries and the New York steak with Caesar salad and fries. The meals were perfectly prepared and enough to satisfy the biggest appetites.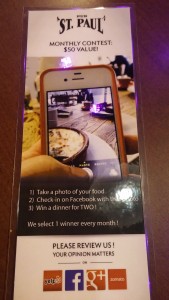 After our meals and the hockey game were both completed, we moved on to the big entertainment of the night, the live music. Every weekend the Pub hosts different bands and on our night it was a classic rock band. The music brought up the party atmosphere as more patrons arrived.
We had a great time and really enjoyed our visit to Pub St Paul, if we had to pick out our favorite part of our night we would have to  say it was our server Cassandre, attentive and delightful, it was a pleasure to meet her and we will definitely return to the Pub St Paul again. Don't forget to enter you pictures on Facebook to win your next meal.
Related articles