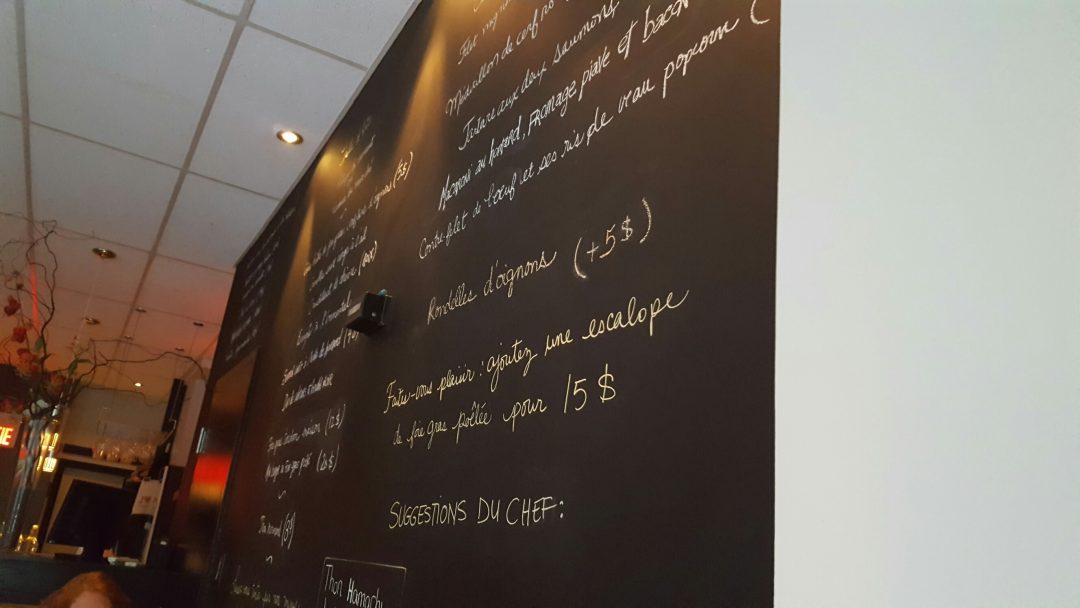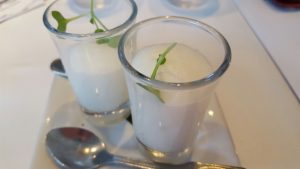 When a restaurant works in tandem you know the staff works like a well oiled machine. When a restaurant is named Tandem your expectations are high and when you eat at Restaurant Tandem those expectations are met. Not only is there a  team of professional servers and chefs working in harmony but each dish follows the previous one in a perfect line of delicious taste sensations.
Restaurant Tandem is found at 586 Villeray in the quaint Montreal neighbourhood of Villeray. Easily accessible by public transit, it is situated near the Jarry metro station, and with ample street parking it is  easy for locals and tourists alike to locate this amazing restaurant.
We have two non-food recommendations for patrons. First, be sure to pick up a bottle of your favorite wine to bring with you. The staff is ready and waiting to open your bottle and pour you a glass. Second, we recommend you make reservations. Space is limited and it fills up fast, so the best way to secure your table is to reserve one. On our visit we were let in on a little secret, the restaurant will soon be expanding so there will be room for all.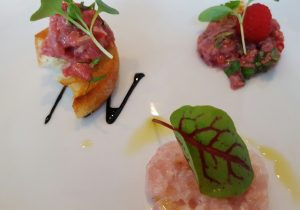 After taking a quick read of the delicious sounding menu, we were advised by our hostess Maude that we needed to try the tasting menu. Restaurant Tandem offers three options for the tasting menu, five, seven or nine courses. We were a little hungry so passed up on the five, and felt the nine courses was going to be too much so we opted for the seven courses.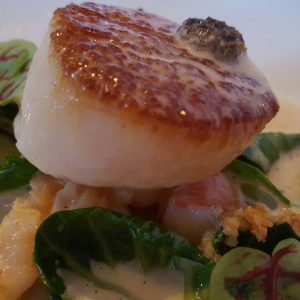 Our meal commenced with a refreshing amuse-bouche of celery root mousse, oh how we love an amuse-bouche. Finally on to the divine dishes created by the kitchen crew. We started with a trio of tartars. Duck, veal, and mackeral, each one was a unique taste sensation and it would be difficult to pick a favorite. Next we sampled the foie gras. Served on bread and complemented by strawberries and herbs, it would make any lover of foie gras drool with envy.
It was now time to move on to the servings of seafood, we were presented with two very different but equally delicious dishes. We began with the pan seared scallops over shrimp and topped with a lobster bisque, a seafood lovers dream. Followed by a serving of cod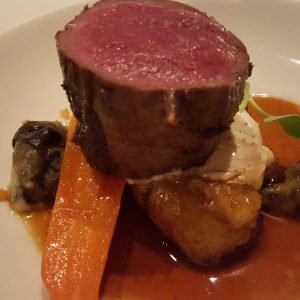 placed on a bed of risotto, prepared perfectly it made for a delicious dish.
It was time to take a short break and cleanse our palate with a refreshing lemon vodka served over crushed ice. After our refreshing intermission we move onto the meat course of the meal. Venison was the dish of the day. If you have never tried venison this is the place to do so. Exquisitely prepared it was truly the best venison we have ever tasted.
Now that we have tried the savory part of our meal it was time to switch to the sweet delights. A very special dish called soup was our next offering. Strawberries and wine reduction topped with a dollop of vanilla lemon ice cream. A perfect summer soup.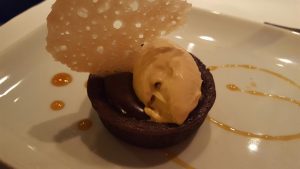 Finally it was time for dessert, but there was not just one but two amazing desserts put before us. It was a good thing because there was no way were going to be able to pick just one. First was the mille-feuille, piled sky high with alternating layers of pastry and cream and topped with chocolate curls. Finally came the chocolate molten cake, so much chocolate, so much deliciousness. There was no better way to ens this amazing dinner.
Having eaten this divine meal and met the amazing staff at Restaurant Tandem we have only one regret, we were not hungry enough to try the nine course tasting menu. For an amazing dining experience, bring your friends, bring your wine and bring your appetite and head on down to Restaurant Tandem.
Related articles