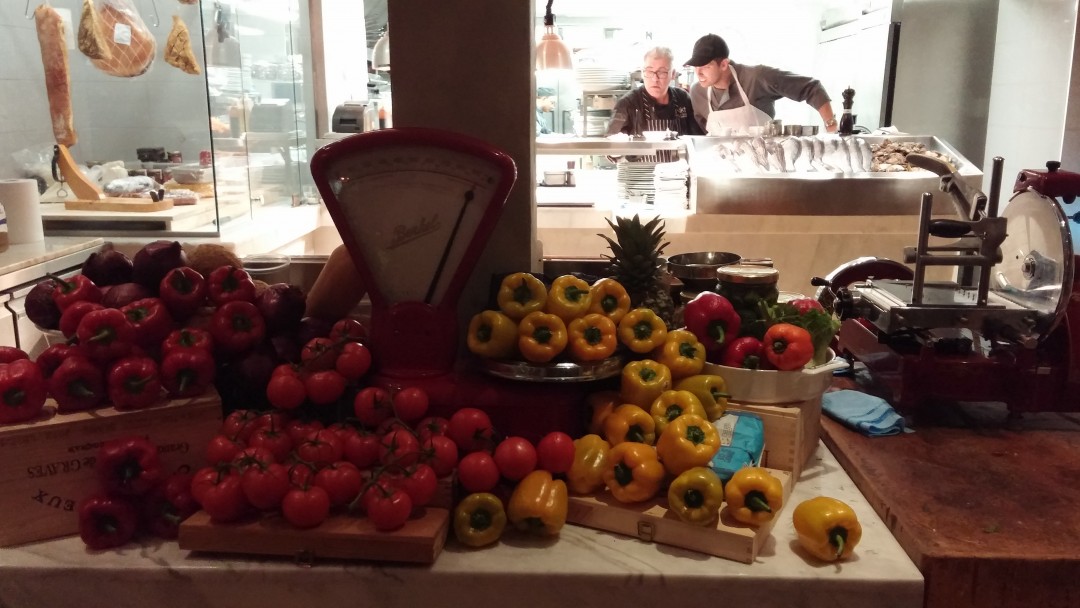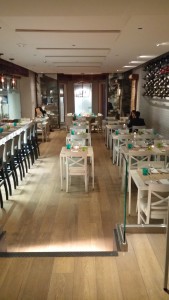 How to construct an ideal dining experience. It is not easy we can tell you that. But sometimes you just hit on that magical combination of atmosphere, team and cuisine, and voila, a dining experience that is second to none. We recently discovers this perfect storm when we had the opportunity to dine at MKT. A lovely Italian bistro on Metcalfe street in the core of downtown Montreal. This establishment is fresh and brightly decorated, and is reminiscent of dining in the heart of the Mediterranean.
Although the evening menu is set, but  lunch service offers a different selection each day depending on the creativity of the chef. Ideally you could eat there for an entire week and be served a unique meal everyday.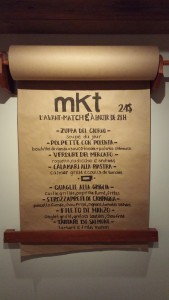 The dinning room is thin but quite long, with walls lined with art and scrolls announcing specials and menu items alike. One side sports an inviting bar and across the restaurant is an enticing display of available wines. The brightness of MKT makes patrons feel warm and is perfect to chase away any leftover winter blues.
We were greeted by our host and MKT owner Parry, who gave us a little of the history of his vision. Having opened only one short year ago, this bistro has lived up to all expectations and offers the public a complete Italian dining experience.
Our evening began with a taste of bruschetta and a sampling of a Greek white wine. The 2014 Biblia Chora Areti was flavorful and crisp and complemented the first two plates we were served. Both the octopus served on a bed of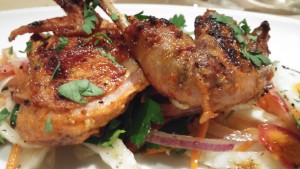 white beans and the calamari prepared in a tomato sauce. It would be difficult to beat the pairing of the wine with the two dishes. Although the wine was quite complimentary it was subtle enough as it did not overwhelm the taste of the seafood.
We moved onto the next two dishes and a bottle of red wine. First came the quail presented on salad and the gnocchi served in a delightful mushroom sauce. The taste was exquisite, and enhanced by a wonderful Dominique Piron Fleurie. Fruity and flavorful the wine was an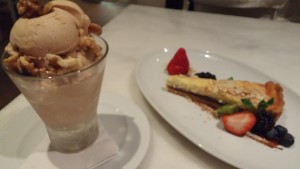 excellent addition to our meal.
After trying these amazing offerings we were sure there would be no way to top this meal. We are happy to say we were wrong. The bouillabaisse came next, warm and brimming with seafood, the dish was seasoned and excellently prepared. Each bite was a joy to eat.
Sadly it was time to come to the end of our meal. But not before something sweet. The choices for this evening were the hazelnut gelato and the nutella and riccota tarte. The desserts were so good we dare you to try them and leave without finishing.
Our evening meal was a wonderful event and you have to try MKT to create your own amazing dining experience. Trust us when we say it will be an adventure you will never forget.
Related articles